The project "Universe 69" investigates the events in the life of Armenian and Japanese societies. At first glance, it is a society with different cultural traditions, mentality, the level of involvement in the contemporary technological epoch, language, culture and many others that forms an integral part as a nation, as well as the territory on which this nation was formed and is living till this day.
However, the tragic events that took place in Armenia and Japan unites them into one whole. We are talking about the earthquake which heppened in Armenia in December 7, 1988 and the events that occurred in March 11, 2011 in Japan.
By analyzing separately these situations worth mentioning that the series of powerful earthquakes and tsunami in March 2011 in Japan has caused catastrophic consequences: were killed and missing almost 30 thousand people, destroyed more than 45,000 homes, another 133,000 damaged partially, put out of action thousands units of technic. Along with these, tragic events have produced very deep dramatic changes in the spiritual life, worldview, mental state, life plans of millions of people. These events have thrown an exceptional challenge to the Japanese technology and the mentality of the nation. At the same time catastrophe has reached a global scale. Should be stated that the psychological consequences of the Fukushima, on the scale prolonging and dramatic, surpass all any other unfavourable consequences. And the nation is spending a massive amount of expenses and technologies to keep "global civilization" somehow.
Considering the situation in Armenia it is necessary to emphasize that during the Soviet present each separate republic was part of a general socialist system. Insade (without taking into account the price that had to pay for it) there was a relatively prosperous vacuum in which Soviet citizens lived. An ordinary individual was generally confident in the future, in available labor employment, housing and communal conditions, education, health and other basic factors of existence.
However, in the last stage of its development inside of the state organism began to be formed "behavioral sink", which started denoted the transition to a destructive and deviant behavior.
In the project "The Universe 69", we explored the causes of internal fracture of Societies on the example of these contrastive nations.
City of Gyumri was almost completely destroyed by a natural disaster on 7th of December in 1988.
Unfortunately, the city has not had time to fully recover by reason the collapse of the USSR. Till this day, the city lies partly in ruins are keeping not lingering scars of change. On the other hand Japan are spending a massive effort to erase the traumas which given by the disaster on 11th of March in 2011. The recovering operation is progressing super fast and on a grand scale even changing the shape of the land.
The experience of gained trauma acutely bared sensitive aspects of human subjectivity, has concentrated emotional side, which was making it as a carrier an irrational principle, while not offering nor any potential scenarios for the resolving the situation.
In the formed conditions it is necessary to comprehend the lessons for the Armenian and Japanese society. Comprehend the lessons - means to change public opinion on the problem and the attitude to it, in a way that clearly understand the real danger of the possibility of occurrence of such events, to anticipate their material and spiritual consequences to take exhaustive measures to prevent them, to support full readiness for effective action experts and the population in a situation of disaster.
And the most importantly never under any circumstances to not lose hope and create a positive future in a close and constructive cooperation with all members of civil society as in Armenia as well as in Japan.

Alexandru Raevschi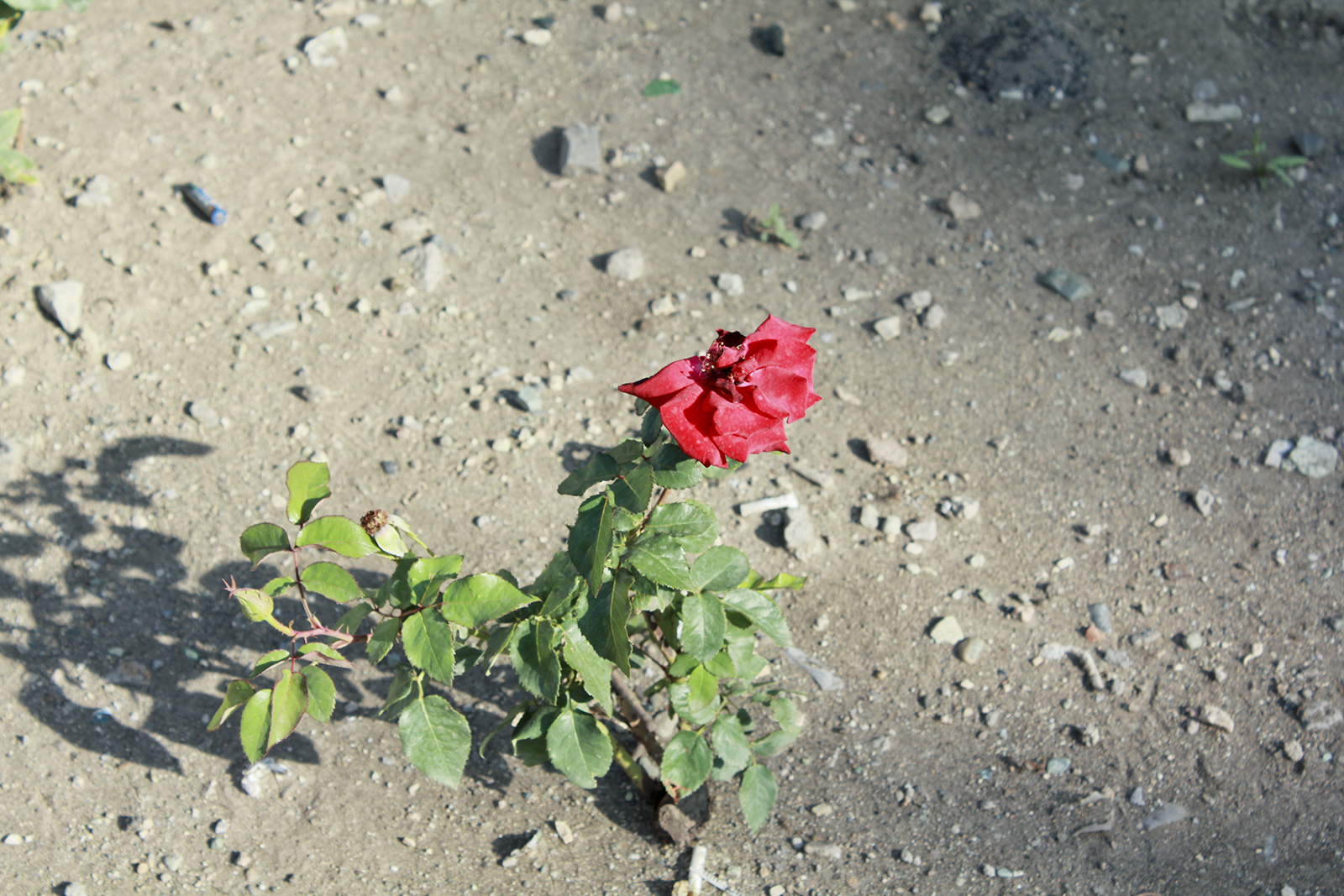 Universe 69 - Phase 1, Gyumri
Date

Aug.15(Sat) - Aug.26(Wed) 2015

Venue

Gallery of Sisters Miriam and Yeranuhi Aslamazian
Abovyan street. 242, Gyumri, Armenia
About exhibitors
-
Alexandru Raevschi
Anna Khachatryan
Artush Mkrchan
Atsuko Mochida
Hidemi Nishida
Julieta Avagyan
Kana Kuroiwa
Karine Khachatryan
Liana Hakobyan
Maro Sahakyan
Nina Pijoyan
Suzanna Sahakyan
Yumino Hagiwara
Zaruhi Arshakyan
Universe 69 - Phase 2, Tokyo
-
Panorama of the past or how to survive yesterday's tomorrow

過去への眺望、あるいは昨日の明日を生き抜くために
Date

Mar.26(Sat) - Apr.2(Sat) 2016

Opening hours

11:00 - 18:00

Venue

co-ume lab.
Koenji-minami 1-6-19 Suginami-ku, Tokyo
→Website
About exhibitors
-
Alexandru Raevschi
Atsuko Mochida
Hidemi Nishida
Kana Kuroiwa
Liana Hakobiyan
Alexandru Raevschi

Alexandru Raevschi was born in 1979 in Chisinau (Moldova). Lives and works in Marburg and Helsinki. His artistic work explores questions of social life and interaction with the political system, using painting, sound and photo-video installation. This results in situational and contextual projects that create forms of intervention in public spaces as well as exhibition speces, acts of translation and archiving.
Current research projects focus on combination biological science with art through climate change, politics of invisibility, search for national identity of individual social groups and reaction to changes under the influence of mental features of the contemporary paradigm.
His artistic work has been presented at National Gallery of Art, Warsaw (2015), Kunsthall, Bergen (2014), BrotKunsthalle, Vienna (2013), Factory-Art gallery, Berlin (2012), the Kalmar Konstmuseum, Kalmar (2011), 3rd-4th Moscow Biennale of Contemporary Art, Moscow (2009-2011), New Museum, Weimar (2010) and many others.
He received Master's degree from "Ion Creangă" Pedagogical State University, Master's Degree from Academy of Public Administration under the President of Moldova and Master's Degree from Bergen Academy of Art and Design in Fine Art.
At the present time he is a PhD student at the Aalto University School of Arts, Design and Architecture.

Atsuko Mochida

Atsuko Mochida was born in 1989 in Tokyo. Contemporary artist.
She mainly creates installation works which intervene to space. It turns the space we perceive in daily situation into something threatening, compelling, into a new level of subconscious behavior. Invading both private and public space she is able to translate everyday feelings into physical objects and installations.
Recently participating grope exhibition; "IMAGINARY BAUHAUS MUSEUM", Maxim Gorki Theatre, Berlin, Germany. "Das Glücksprinzip", Former prison, Weimar, Germany.

Hidemi Nishida

Hidemi Nishida was born in 1986, grew up in Hokkaido, an environmental artist based in Tokyo.
Nishida had finished architectural education. He works on environmental installation, activities and performance what reminds people a elemental perception of our daily life.
Nishida recently participated to "By the mountain path",London UK, "Ung.Lovende" /Moss NORWAY, "Gwangju biennale 2014", Gwangju SOUTH KOREA, and so on.

Kana Kuroiwa

Kana Kuroiwa was born in 1986 in Tokyo. She started her independent creation in her teens. She worked for several art museums in Tokyo from 2004.
After then she moved to Kobe in 2012 and engage to food creation and agriculture organizing creative invent space.
Kuroiwa works on mostly improvised happenings or poem touching to resonance, margin, afterimage or noise in the space.

Liana Hakobyan

Liana Hakobyan was born in 13.10.1993. She is an artist and fashion designer. She graduated Yerevan State Academy of Fine Arts of Gyumri Branch, (Gyumri, Armenia). Her artistic interests are oriented in issues such as human moral-psychological state, contemporary social addiction, global issues and problems as internal and external borders of humanity and caused grave and irreparable consequences not only on one personal level of interaction but also on the level of the whole nation and culture. She is using different ways and forms of design, sculpture and performance.
Her artistic work has been presented at the "Gallery of sisters Mariam and Yeranuhi Aslamazyan", Gyumri (2015), Yerevan State Academy of Fine Arts of Gyumri Branch, Gyumri (2012, 2013, 2014), Yerevan State Academy of Fine Arts Yerevan (2013), National Gallery "Art" Yerevan (2012), Gallery of the Artists Union, Yerevan, Armenia (2011).
She was awarded "The best Designer of the year" at the International Art Competition "Baze", Yerevan (2012).